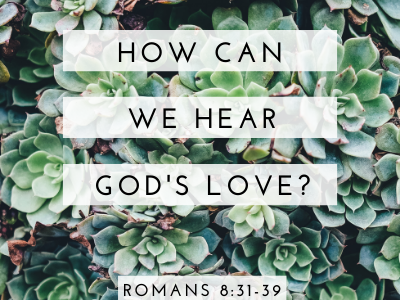 Sep 01, 2019

How Can We Hear God's Love?- Romans 8:31-39- September 1, 2019

When we demand that God communicate his love to us in the ways we want him to, we will not hear the expansive dimensions of it. God has loved us in Christ's crucifixion on the cross. He continues to love us in his call to crucify the old self to follow Christ. God's love is always in Christ. In life's experiences that threaten our sense of God's love, may we look to Christ, crucified and calling, and hear, "I love you."

Grace Community church exists to build spiritually healthy people for ministry in the world. One of the ways that we pursue this mission is by gathering each Sunday for corporate worship, prayer, and biblical teaching. The corporate nature of this gathering is both edifying to the believer and a witness of God's grace to the world. Sermon speaker is Scott Patty unless otherwise noted.