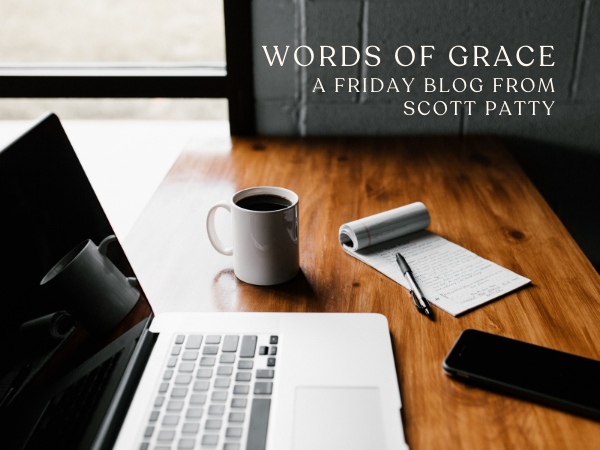 Jul 22, 2022

Love and Obedience – Words of Grace Blog – July 22, 2022

"If you love me, you will keep my commandments." -John 14:15

With these words, Jesus tells us something about himself, and about our relationship with him.

The setting is the night before Jesus' crucifixion, with the disciples gathered around him, as he speaks these final words about following him after he is gone. These words come to us in the Gospel of John, chapters 13-16.

First, it's hard not to hear in these words something about the relationship that Jesus had with God the Father while he was on earth. Jesus loved the Father and obeyed him to the point of death on the cross (Philippians 2:8). The cross is also the great display of Jesus' love for us. For Jesus, love and obedience were inseparable.

"O the deep, deep love of Jesus, vast unmeasured, boundless, free. Rolling as a mighty ocean in its fullness over me." (1) The love of Jesus, demonstrated at the cross in obedience to the Father, rolls over us in forgiveness of sin, reconciliation to God, adoption as sons and daughters, glory to come, and countless other ways as it greets us each new day.

Jesus' love was behind his obedience on the cross.

Second, we hear in Jesus' words the nature of our relationship with him. The love of Jesus for us generates and awakens our love for him. This love compels us to obey as we follow Jesus as Lord. If we love him, we will keep his commandments. Love and obedience define our relationship with Jesus.

We cannot separate love and obedience, for they are never separated in the Bible. We never read in the Bible of a situation where the people of God can rightfully say that they love him but are not interested in or intentional about obedience to him. Neither do we hear God calling for a slavish obedience to him void of the knowledge of his love for us or of our love for him.

The Bible's representation of the relationship between God and his people always includes love and obedience, and it keeps them together. We love because he first loved us. His love awakens our love for him. Love is the wellspring of genuine obedience to God.

Do you know how much Christ loves you? Your obedience to Christ must begin with the knowledge of his love. Without love, his commands will be burdensome beyond your ability to bear. Come to the foot of the cross and let his love roll as a mighty ocean over you.

Do you have a hard obedience to take up today? Remember that Jesus loved the Father to the point of dying for you on the cross. See in the cross the deep, deep love of Jesus for you. Let his love subdue your rebel heart, soften it to his will, and set it in the direction of keeping his word.

I am praying for you this weekend. Will you pray for me? Let's pray together that love and obedience to Jesus will be kept together and will grow stronger in these days.

-Scott

(1) "O The Deep, Deep Love of Jesus", Samuel Trevor, 1875.